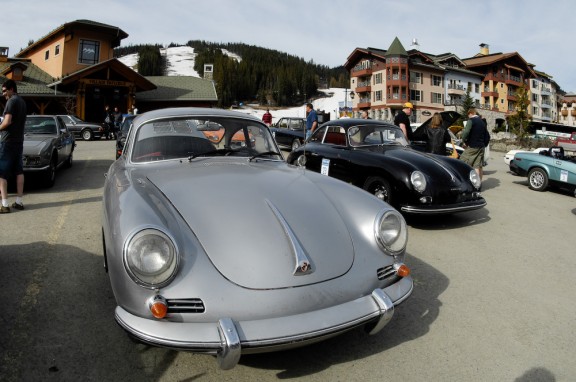 The Spring Thaw is a budget-minded 3-day driving adventure through British Columbia for pre-1979 touring and sportscars. This is for those who enjoy spirited driving on some of the most challenging and beautiful roads in the world. Concours cars are more than welcome, but we also encourage those less-than-mint, hard-driven, budget classics to take part. Enthusiasm for driving old, unreliable cars counts more than anything!
When is the Spring Thaw Adventure?
Friday, April 27 – Sunday, April 29, 2012 (4th Annual)
What cars can enter the Spring Thaw Adventure?
The event is open to sport, touring and classic cars from 1979 and earlier. Sorry, no trucks or motorcycles. As the popularity of the Spring Thaw grows, our interest in keeping the '79 and earlier designation becomes stronger. Rules are made to be broken though, so if you think you've got a unique car that fits, but doesn't meet the age category feel free to contact us. Mid 80′s and newer vehicles are outside of the scope of this event. If you own a Delorean, however, let us know. We have a spot reserved for you!
Where does the Spring Thaw Adventure go?
The Spring Thaw takes participants on some of the best roads in southern British Columbia. Participants should be prepared for remote mountain roads, changing road conditions, and amazing views. We are currently finalizing the route, but the 2012 edition will start and end in Hope, BC.
Is this a competitive event?
There are no competitive elements to the Spring Thaw. This is not a race, but rather a fun run through mountain twisties with your (soon to be) best motoring friends. We'll provide the suggested route, some times to meet for lunch and dinner, and we go from there. The emphasis is on fun and adventurous driving, but you can be sure there will lots of great prizes to hand out at the finish! Dave Hord (2010), and Phil Lacefield (2009) agree that the Hard Luck Award is a trophy to be feared. Both 'winners' have enjoyed substantial post-event engine rebuilds.
How much is the entry fee, and what does it include?
Keeping a classic car roadworthy is expensive enough, so the Spring Thaw is intended to be a budget-minded event. If you're looking for a high-end resort and winery tour, then you might be disappointed. At the same time, you might be surprised as well!  We have stopped at wineries and stayed in resorts before…but we've also "enjoyed" certain motels which will remain nameless. Regardless, our hotels and meal stops are dictated by the roads we travel, not the other way around. If the art of driving is more your thing, then you'll find the affordable hotels and restaurants more than acceptable. Your entry fee will include a hotel room for Friday and Saturday night, entry fee for the driver and co-driver, car decals, route book, goodie bag and a few other surprises. For 2012, the entry fee is $450.
Entry Forms and More Information
Head over to the Spring Thaw Forum to chat with past and current participants!