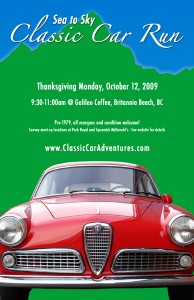 With winter approaching, we're itching to hit the road in our classics as many times as possible, so we're organizing a quick Sea to Sky run and meet-up!  We're keeping it quick, local, and fun…here's the details – we hope to see you soon!
What: A casual cruise and meet-up with fellow classic car owners of all marques and types to "give thanks" for another season of motoring fun! Drive the best part of the new Sea-to-Sky Highway on a quiet holiday morning, and enjoy the company of classic car nuts before you have to head off to the in-laws for thanksgiving dinner! We have planned it so that you can be back home by midday. Some of you might have done a Sea to Sky run recently with your various car clubs, but its always fun to mix all the marques together and meet new people. And really, who can say no to the beautiful views and winding turns past ocean and mountains – especially on a holiday! Rain or Shine.
When: Thanksgiving Monday, October 12, 9:30-11:00am
Where: Galileo Coffee, 173 Highway 99, Britannia Beach, BC

West Vancouver Gathering Location: If you'd like to convoy with others up to Britannia Beach, we will be gathering at the Park Royal Shopping Centre (White Spot Parking Lot) in West Vancouver. The group will be LEAVING this spot at 9am. [Google Map Link]
Squamish Gathering Location: For those coming from Whistler and Squamish who want to meet the others in West Vancouver first and make a drive of it, we will depart the Squamish McDonald's parking lot at 8am. Otherwise, just plan to be at Galileo at 9:30ish!

View Sea to Sky Classics Run in a larger map
You can also discuss this event in the forum.